Seligor's Castle, fun for all the children of the world.
Blogs
---

Wed, 28 Jul 2010

A little trip to Fairy - Land, With the wonderful Elizabeth Fleming at Seligor's Castle Page 22


FAIRYLAND IN SELIGOR'S CASTLE
Share
Holly and Ivy hanging up and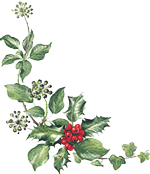 THE CLOTHES-HORSE
 
Our wooden clothes-horse hides itself


Beneath the lowly wash-house shelf -
But why a horse ? I often think;
It doesn't eat! it doesn't drrink !
It has no tail, it has no head,
Only a wooden rail instead !



But sometimes on a washing-day
Our clothes-horse really does look gay;
A goodly, well-appointed steed,
Really to gallop off at need;
With trappings billowing around
And fringes sweeping to the ground.

At times like these I think it looks
Like horses out of story-books;
And if I saw it move to go
I wouldn't dare to whisper "Whoa !"
And if it chose to disappear
It wouldn't seem so very queer.  .  .  .

But so far it has simply stood
A common clothes-horse made of wood.

Posted 07:18
No comments
---
Post a Comment:
---