"top">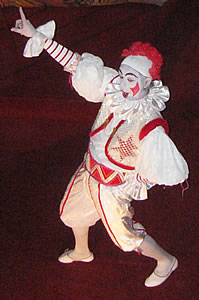 JOSEPH GRIMALDI
1778-1837
Joseph Grimaldi was 3 years old when he first went on the stage of Sadler's Wells with his father and worked there for 45 years as performer and part-proprietor. From his debut in 1806 at Covent Garden in Mother Goose he was adored by all and could fill a theatre anywhere. The name Joey has passed into our language to mean a clown. He lived all his life among the people of Clerkenwell and died at 33 Southampton Street, now called Calshot Street. Islington Council has called the park in which he lies buried the Joseph Grimaldi Park to commemorate a great artist and a great man.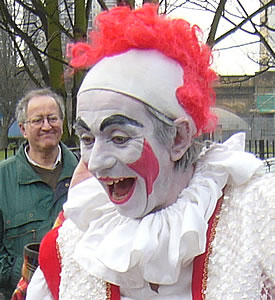 There was a special performance held in 2006 based on the life of the Great Joeseph Grimaldi. Do you know that many, many clowns have makeup that is their trade mark. It is registered and no other clown is allowed to wear his or her style of make up.

Following the clown's show you are invited to a special opening of the Clowns Gallery - Museum. This is the UK's only museum dedicated to clowns and their history. It is normally open just once a month - on the first Friday (from 12 noon to 5pm) (special arrangements can be made for group visits at other times) The address is: All Saints Centre, Haggerston Road, Hackney, London E8 4HT (Tube: Liverpool Street, then bus 149 or 242; map) It is just a few minutes' walk from Holy Trinity Church to the Clowns Gallery.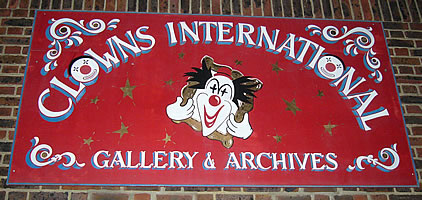 You may want to combine a visit to the Clowns Gallery with a visit to two other nearby museums:
- Museum of Childhood, Cambridge Heath Road, London E2 9PA: http://www.vam.ac.uk/vastatic/nmc (map)
- Geffrye Museum, Kingsland Road, London E2 8EA: http://www.geffrye-museum.org.uk (map)
Clowns International (the organisers of this event): http://www.clowns-international.co.uk.

Theodora Children's Trust: http://www.theodora.org.uk. This is a clown doctor programme, bringing fun and laughter to children in hospital. This important service is provided by a charity (donations are welcomed).
  Thank you so much for letting me use these facts, excellent
Posted 18:45